Dental Crowns (Normal)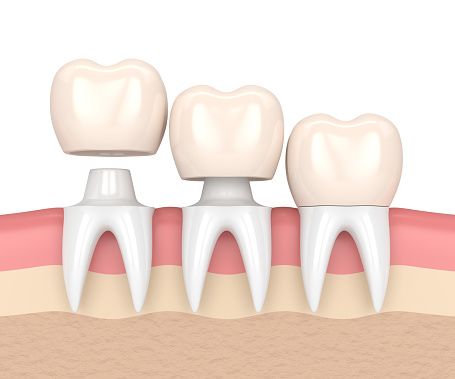 The team at Advanced Family Dentistry, is more than happy to restore your severely damaged or decayed teeth using crowns. Crowns are a dental restorative procedure that strengthens a tooth or improves its shape. They're most often used to fix teeth that are worn or broken or those that have parts damaged by tooth decay.

A crown refers to a "cap" fixed over an existing tooth and usually covers the part of the tooth above the gumline. Basically, the crown becomes the new outer surface of your tooth. Crowns may be made of metal, porcelain, or both. Porcelain is the most commonly used material because it's very strong and appears just like natural teeth.

Crowns are required when the tooth is not strong enough to house a filling. Unlike dental fillings, which directly apply the restorative material into the mouth, crowns are created outside the mouth. They're created in a lab using your tooth impression, which lets a dental lab technician examine everything about your jaw movements and bite. Then the crown is designed specifically for you so that your jaw movements and bite work normally when the crown's placed.


Crowning a Tooth

Crowning a tooth usually takes 2-3 visits to our dental practice. At your first appointment, your tooth is readied for a new crown. First off, it's shaped through drilling to fit in the new covering. The tooth and its surrounding area are numbed in advance. If there's minimal tooth structure left in the beginning, the tooth may need to be rebuilt with filling material, instead of being filed down, to hold the crown.

After preparing the tooth, our dentist takes your teeth's impressions and hands them over to the lab. Using the impressions, our lab technician makes replicas of your teeth so that they can create a crown.

Before you go home, our dentist will install a temporary crown on your tooth to shield it until your permanent crown is made. At your second appointment, our dentist will attach the permanent crown to your tooth using some sort of permanent cement or a special source of light.


Benefits of Crowns

As the outer enamel on your teeth is thinner than that of permanent teeth, decay can progress much faster between your teeth. When a crown helps preserve one of your teeth, it's actually also preventing the decay from spreading to your other teeth. By crowning your tooth instead of extracting it, it may also save room for adult teeth later on and prevent the movement of the other teeth.

Teeth have many uses in your mouth, and a crown can ensure these functions continue. Chewing food, speech development, the development of muscles and the jawbone, and face symmetry can all be adversely affected by a loss of tooth in your child's mouth. Also, if a kid requires a pulpectomy, a crown can help restore the upper surface of their tooth after the removal of the pulp.

To learn more about our dental crowns, be sure to get in touch with us at Advanced Family Dentistry at (765) 287-5338 any time to set up a consultation.